Arooj Aftab has become the first Pakistani singer to win a Grammy this year. The winning track, "Mohabbat", from his 2021 album Prince Vultureis an ethereal 8-minute journey through Aftab's version of an Urdu poem.
After helping guide a new era of DIY music in Pakistan, working as a sound engineer in New York and catching the proverbial ear of former President Barack Obama, Aftab has certainly made waves.
And as she said Newsweek ahead of her first set at Coachella, she has no intention of slowing down.
You are a Grammy winner very recently. What does it do?
I feel good. Yeah, it's great, it's a very wonderful and positive feeling.
I would like to talk about the album, Prince Vulture, which I know is partly dedicated to the memory of your brother. I don't want to get too involved in your grief or your private life, but how was your brother? who was he?
He was really full of life. And he was very fond of music. And he was very fond of fashion. He was very handsome, a kind of ladies' man. Very positive, very enthusiastic, super excited about the music I would release. We spent a lot of time sharing music with each other.
And also, you know, he was six years younger than me. This age gap is interesting, because you're also more than a sibling. When he was born he was a little baby in my arms, you know what I mean? So it's like brother-sister plus child in a weird way. But yeah, that's who he was – he was really into music. He had a great musical sensitivity, flautist and singer.
Have you ever worked together in a professional sense?
We planned to do it, but you know, those plans are… Sometimes life is too short.
For the American public, let's talk about a form of poetry that you sometimes refer to called ghazal, and its importance as a spiritual work as much as it is poetic and literary. What is that?
It was basically a lot of different things coming together, kind of like a ballad. It's kind of the feel, the poetic content, the instrumentation, that come together in this sort of semi-classical South Asian tradition. I didn't study South Asian classical music in that sense. But I think it's more contemporary. They are love songs, a light and contemporary classical genre.
The music I make is not ghazal. And it's not the Sufi tradition either. I think what I do is kind of post-a lot of that stuff. Certainly borrowing a lot of poetry from those centuries and everything, but it's not an interpolation. It's what feels personal to me, like minimalism, that I love. Jazz theory? Almost even pops.
You described Urdu, the language in which you often sing, as an emotional language. In Western contexts, we think of Romance languages ​​- is that a similar kind of thing, where there are feelings that you just can't convey?
Yeah, I think there are so many beautiful Romance languages ​​that exist in the world. The most popular are all European, which seems a bit of a shame to me.
But yes, there is a lot of mysticism, and in fact, quite literally romance, in the way you express an idea. [in Urdu]. It's kind of by analogy and in a beautiful, enveloping way, which makes it extremely romantic. It's a bit indirect. It's not great on the nose, which I really like.
I love this kind of very discreet, very open organic concept. Less is more, you know? I feel like a big story that has a lot of narration is something that I wouldn't want to put all of it into a song. [My style is] more like four lines here or there. So that's kind of what Urdu does very, very frequently and very easily, which seems to fit.
Prince Vulture came out in 2021, so was it work you started during the pandemic? Or before the pandemic?
Before.
So how did your plans for this album have to adapt?
Luckily, we finished all of our tracking just as the lockdown started. I don't know how it happened, but it's just that everything we had to do in person was done. Well, except for me and the mix engineer sitting together and starting the mixing process. And so the confinement was really, really helpful, because there was no noise and there was no excess or distraction. And I was able to really dive deep and focus on mixing and just doing that, that year.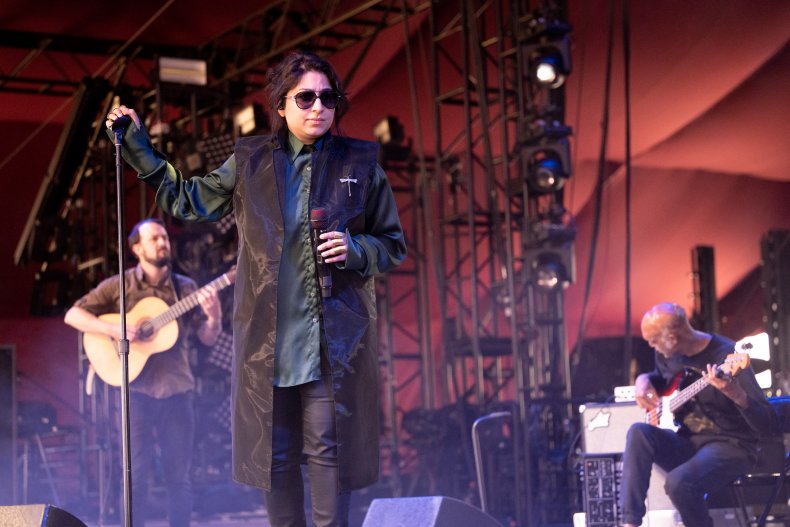 Is this a facet of the process that you like?
Yes. I had the privilege of having a day job in audio work. And so I was lucky not to have lost my income during this period. I feel for everyone who just lost thousands and thousands of dollars on gigs and their livelihoods. But that didn't happen to me. I mean… I was doing freelance audio engineering, right from the start of the pandemic, and it was a really, really tough time to find work and keep it because not everyone knew what was going happen.
You are in many ways credited with leading the DIY music scene in Pakistan, and I wonder if that's a title you wear with pride. Do you also feel like you are standing on the shoulders of others?
I wear this title with pride. I think that's what happened unintentionally, and maybe it was a big part or a small part. I'm just glad that what I did was remarkable enough for other people to follow. And then the industry there kind of grew.
How have you seen it evolve since your debut? Is it easier for someone to come now?
It's incredible. Yeah, they're super successful. They have all these amazing indie artists and just like a lot of cross-genre music, and they just do it beautifully.
I imagine having one of your tracks on Barack Obama's 2021 summer music slate was pretty crazy.
Yeah, I think he made a solid one there. I must have really liked it. It also made a big difference, because we are here, this is where I live. This is where I make music. I am part of this industry.
And I think that's amazing. Even friends of mine in finance and stuff would say, "You got nominated for a Grammy, and that inspired me. Look what Arooj is doing, I'm going to start my own business.
It's good. Life is too short for to pretend you love what you do.
What's the last song you had stuck in your head?
I mean, the one who was just playing in the tent… MIKA! He was playing this song "Relax, Take It Easy", and our trailer is right next to this scene. It's a classic.
Newsweek's ongoing Coachella coverage is available online at newsweek.com and on On Beat, available wherever you get your podcasts.