"Has no one ever succeeded?"
It's a question the betrayed and heartbroken Carrie White has been asking since 1988. And audiences have been there with her.
Stephen King's classic horror story about a telekinetically tortured teenager was the subject of a gripping novel in 1974 and an Oscar-nominated chilling film in 1976, but few thought it could succeed as a musical when Lawrence D. Cohen – who had written the script for De Palma's film – in collaboration with FAME composer and lyricist Michael Gore and Dean Pitchford to try to tell the story through song. Carrie: The Musical was born in Stratford-upon-Avon in February 1988 and landed on Broadway in April with a thud.
Critics on both sides of the Atlantic eviscerated the play for its over-the-top theatrics, spastic Debbie Allen choreography, inexplicably Greek toga-themed costumes, weak special effects, and incompetent narration. It closed in New York after 16 previews and five performances, losing $8 million and gaining flop reputation to end all flops.
Nonetheless, elements of the score won the hearts of musical theater fans, who circulated clandestine recordings in hopes that Carrie might somehow pick herself up. These grassroots efforts forced the creative team to revisit their wayward child in 2012, when they revamped the play into something less outrageous and more true to the spirit of the book. This Off-Broadway incarnation rehabilitated Carrie's reputation somewhat and even inspired the CW Riverdale to thematize an episode of their show around the musical.
Now the revised Carrie has made its way to the Mainline Theater through the efforts of In The Wings Promotions, who must be credited with not only bringing this rarely produced misfit show to Montreal audiences, but also putting together a compelling cast of local talent.
Mary-Francis Kobelt steps into the difficult lead role with charm and vulnerability. Although she begins as a calm, hunched figure at the periphery, her impassioned voice alludes to the hopeful spirit imprisoned within the body of a girl tormented by her classmates and abused at home.
In the wrong hands, Carrie may come across as a sickening victim of a note, but Kobelt is careful to paint her portrait with nuance, so you can support her as she builds her confidence and begins to let her guard down. She's a Carrie who we half-expect to make it through prom unscathed.
It helps that she has the support of such an affable escort. As Tommy Ross, Jonathan Vanderzon brings a laid-back nature and a smooth, clear voice to the often thankless role of Mister perfect.
While it never quite made sense for a popular high school guy to agree to take an outcast to prom at the behest of his girlfriend, Vanderzon somehow connects those dots, effortlessly embodying this creature. the rarest: a really nice guy without an ounce of ego or insincerity. The native of Saint-Bruno-de-Montarville has clearly taken advantage of his training in the Big Apple and seems destined for great things.
Likewise, Maya Lewis floats through each of her songs as the aforementioned Sue Snell, whose attempts to help Carrie end up backfiring. As she and Vanderzon sing the act two duet you shinethey all left with the show.
Maria Del Real puts up a good fight, though, as the spunky and lovable Miss Gardner, who doubles as gym teacher and therapist for insecure Carrie. Although the revised version of Carrie still insists that Gardner fills Carrie's head with wacky fantasies of finding true love,
real mines Unsuspecting Hearts for humor, winning over both his questionable student and the crowd with his can-do attitude and pleasant Mexican accent. If Carrie has generally been light on the laughs, this cast at least knows where to find them.
It's the thrills and chills that seem to be noticeably absent. Much of the scare factor in the original came from Tony Award-winning Betty Buckley's terrifying portrayal of a religious parent gone mad. One could easily argue that her legendary and limitless portrayal of Margaret White is what kept the show from being completely shunned and utterly forgotten.
Producer and costar Noelle Hannibal approaches the plum role of Margaret with notable hesitation, denying Carrie the hangman she needs to justify her heroine's emotional scars. There is no vocal belt or physical beat, and the show is weaker for it.
Aly Slominski throws herself more willingly as bad girl Chris, with Dylan Stanley as bad boy Billy, and while the two are having fun, they just don't get as many chances as Margaret to give. to the show its advantage. .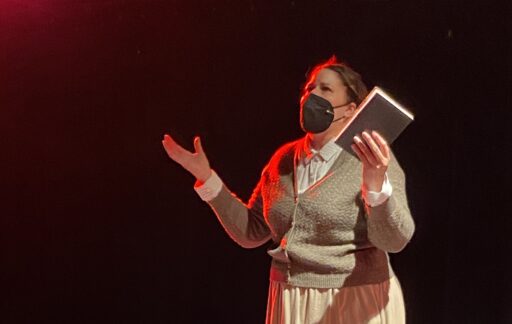 Musical director Ian Baird and his cheerful group of musicians (Gregory Kustka, Kevin Bourne and Colin Gé Pigeon Edwards) almost make up for it, delivering on the spooky, rock-inspired score with precision and enthusiasm. Unfortunately, Carrie's powers seem to have triggered a plethora of behind-the-scenes technical issues for Bruce Lambie's sound design on opening night.
Microphones crackled, skipped, and frequently cut out randomly. For a space as intimate as Mainline, you'd think removing the faulty mics altogether would be enough, especially since the cast is apparently able to sing even while wearing face masks, as is currently required.
They cannot, however, be heard over the obnoxiously loud audio clips that punctuate the show with unwanted frequency. Simply put, some adjustments need to be made.
The staging, meanwhile, looks more like what you'd expect to see in a rehearsal space than an actual production. Black curtains and boxes are used to suggest Carrie's home and the schoolyard, with some treasured accessories on hand to bring these environments to life. Presentation suffers.
In And Eve was weak, for example, Carrie's mother is supposed to violently lock her daughter up, either in a basement prison, as seen in the Broadway show, or in a closet, as shown in the film. Here, Carrie is simply led to the back of the stage and brought to her knees, while an ambiguous sound effect vaguely suggests a door being locked. Audience members who were unaware of this plot point were left puzzled.
Later, Carrie is supposed to dramatically reveal her powers to her mother by wanting the windows to close during a thunderstorm. It would be a simple enough effect to pull off, but having provided no window, set designer You Chen Zhang and director Nadia Verrucci leave their star to simply nod at the audience as more sounds echo through the walls. speakers, trying to compensate for what should be happening in the theater.
Two practical effects are used early on to illustrate Carrie gaining control of her powers and they work pretty well, but once we get to the prom scene – the scene that for many is the only reason to watch any adaptation of Carrie – the creative team just seems to be throwing in the towel. Surprisingly, lighting designer Alexander Smith chooses to use black lights during Carrie's climactic meltdown instead of, say, red lights. Or better yet, ordinary blood from the old scene.
For smaller scale production, cutting corners is understandable. Denying Carrie audiences a bloody finale isn't, especially after the Broadway original and subsequent revivals were heavily criticized for the same. The blood is central to the story being told, so even when working within the tightest of budgets, it's worth prioritizing.
That said, one can't help but hope that Carrie will iron out some of these flaws in future performances, because – thanks to her spunky cast – there's real momentum behind this production that's worth celebrating. After two years of confinement, we had a precious little live theater to enjoy, let alone unconventional theater.
So even with its tragic elements, Carrie remains a curiously uplifting experience. Good or bad, right or wrong, love it or hate it, this is definitely an evening you will never forget.
For tickets, please visit the MainLine Theater website. Carrie runs until May 14. For more on the story of Carrie: The Musical, listen to the Out For Blood podcast, which chronicles the series' fascinating development through interviews with its creative team and fans around the world.
Images courtesy of In the Wings Promotions