SIOUX CENTER—Playing as a family is one of the most important things you can do for the well-being of a family.
A family from Sioux Center puts a generational spin on this notion.
Grandmother Jeri Schelhaas, 72, daughter Rebecca De Vries, 42, and grandson Nico De Vries, 10, are among a 32-member cast weaving together the Banks family story in "Mary Poppins" – the musical to be part of Sioux Center's Summer Festival in June.
The trio spent a few hours around two or three nights a week for 12 weeks training together – Rebecca and Nico playing the mother-son roles on stage as Mrs Banks and Michael Banks, Jeri playing the bird woman sitting in front of Cathedral Saint-Paul every day, selling bags of crumbs for the pigeons.
Although they don't have a scene in which all three are present, mother-son and grandmother-grandson share the stage at various times throughout the two-and-a-half-hour production.
"It's just a wonderful thing and I think it's kind of a community theater," Jeri said.
"It can't happen in high school or college productions, but it can happen in small town theaters. It's just amazing," said Rebecca.
With a smile on his face, Nico, agreed with his grandmother that "it's pretty cool" that they can do this as a family.
"It's fun to be on stage," Nico said. "I think they wanted to put mum and me together. It's fun with grandma too.
He's glad he tried now.
"Just about half an hour before we went to practice, I remember Nico saying he wasn't sure he wanted to go anymore," said Rebecca.
"But I did, I'm glad I changed my mind," he said.
Although Jeri didn't try out the production with her family members in February, her name came up when it came to recasting the role of the bird lady.
This is the first time in Jeri's theatrical career that she has taken part in a musical. Her involvement in theater began as a freshman at Dordt College, from which she graduated in 1967.
"I did plays, academic theater because musicals or operettas were part of the music department then," she said.
Jeri credits her mother for instilling an interest in plays in her.
"My mother was a high school graduate around 1927 or so," Jeri said. "She did plays in high school and they had these times … where they were giving dramatic readings. The whole time she talked about the plays she was in, I still remember the first line of a play she was in because she said so much.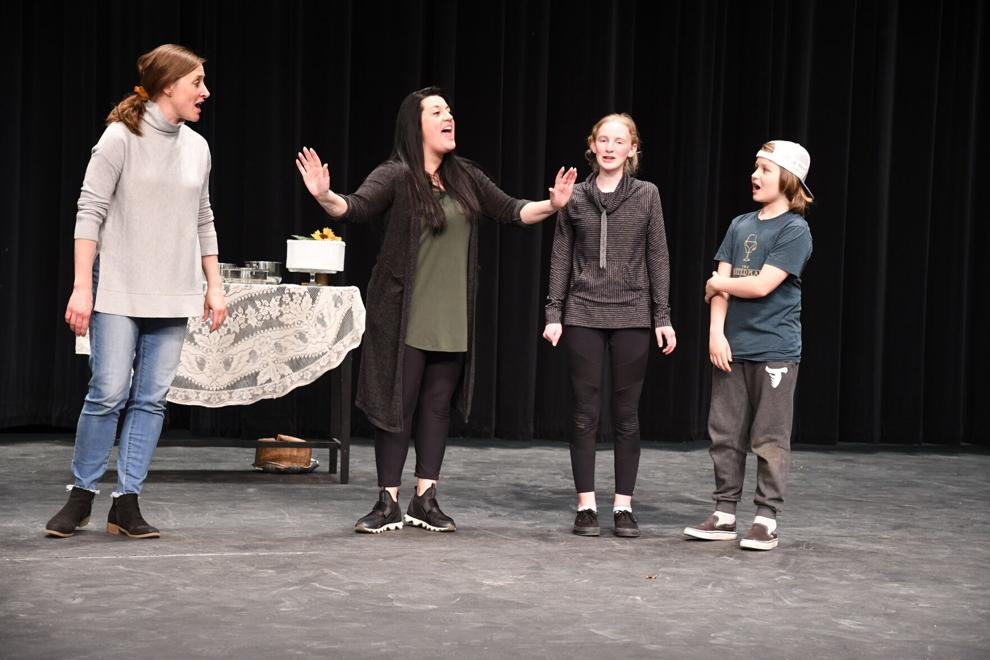 "All our lives, my brother and I have done a lot of home theater plays inspired by my mom. I think there's something genetic in a way. And my dad was a great storyteller. He could do any voice. It was just a part of our house.
With her degree in English, because Dordt did not have an acting degree at the time, Jeri went on to teach English at Western Christian High School in Hull. There she taught English and co-directed plays with fellow English teacher-turned-husband Dave Schelhaas. Although they were away for a time, they moved back to Sioux County in 1988 and Jeri became a Dordt acting teacher and director for a time.
Upon her retirement, she helped resurrect the Sioux Center Community Theater in 2015 with the production of "Quilters." There has been a community theater production with Summer Celebration every year since.
"When you see and hear that your parents are doing theater and you're just surrounded by storytellers and storytellers, you naturally fit in there," Rebecca said of her love for acting.
As a child, she remembers going to theater rehearsals and attending all the shows.
"My brother was in shows and I went to all of his shows," she said. "When it came my turn to try out a play, it just felt natural."
Other than a sophomore Bible skit "in which she played a vinegar boy," Jeri recalled, Rebecca had no opportunities until she attended Unity Christian High School in Orange City. Although she did not major or minor in theater at Dordt, the 2002 Dordt graduate directed a show under the direction of her mother during her senior year and performed in two other shows under the direction of his mother.
She uses her skills today as a worship coordinator for the Covenant Reformed Christian Church at Sioux Center.
"I find myself thinking dramatically when it comes to scripture reading, Christmas programs," she said. "My parents always brought stories to life with the way they read them to me. I could always imagine how the stories, the lines of dialogue should sound. Putting my own voice on those lines was something I looked forward to and always keeps me interested in playing.
"Not to mention she has a beautiful voice," Jeri added. "A lot of people tell me she has such a wonderful voice. It's a joy to see her use it.
Nico is reminded that his first acting role came around 2012 in Unity's production of "Cheaper by the Dozen".
"I guess I was a baby eating crackers," he said. "The first role I remember was a few years ago with the Missoula Children's Theater and some Christmas plays. Acting – it's just fun. It's cool to see what I can do.
Being in all but two scenes and having to sing multiple lines makes this production his toughest role he's had so far.
"Being Michael is very special to me because he's around my age. I can relate to him. I'm grateful to be able to play him," Nico said.
He is also a good promoter
"I was really nervous during the first rehearsal because I don't think I sing well," Jeri said. "I felt like I was going to be in grade B. But after singing and receiving warm applause from the band, Nico came across the room to hug me saying, 'That was a back -grandma". That was all I needed. I'm so proud of him and my daughter, and I feel blessed to be able to share this opportunity.